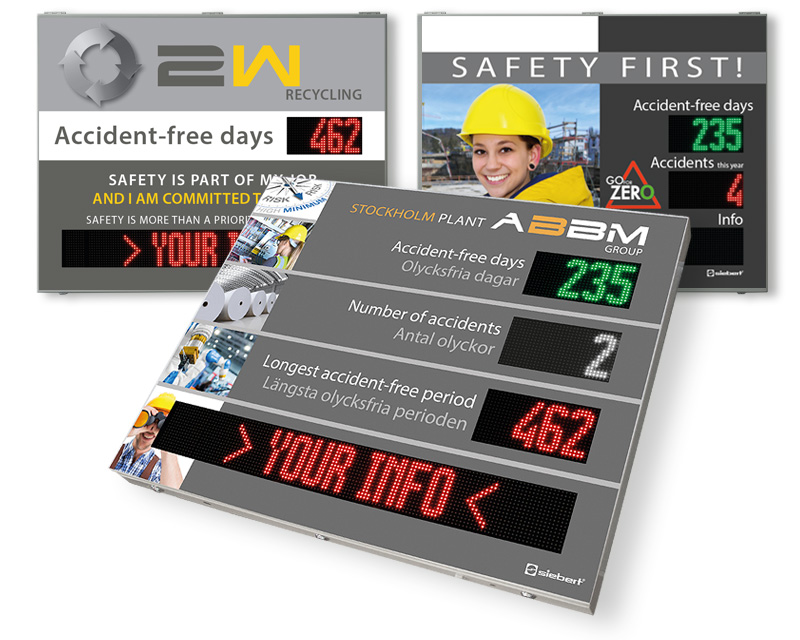 The text display is the eye-catcher

The displays visualize the number of accident-free days and, depending on the version, also other key-figures of the company accident statistics. Additionally, they have a text display with which further functions are possible. For example, current or individual information can be shown on the text display:
Current messages
Temporary warnings
Notes on training courses
Work safety slogans
Welcome texts for visitors
Insertion of date, time and temperature
The dynamic nature of the text display draws the attention to the display and thus to your commitment to work safety. The texts can also be displayed in marquee or flashing mode, once again increasing the dynamic effect.

Welcome your visitors with an individual text! This is how your visitors will also be aware of your commitment to work safety. Also, date, time and temperature can be displayed, ideally alternating with other information, to increase attention once again. The text display is freely programmable and time-controlled functions are also possible.

The XC695 series is based on the experience, that in countless applications the combination of numerical displays for key figures of company accident statistics and a text display for individual information has proven to be optimal.